PROGRAM DESCRIPTION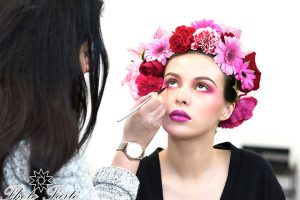 Airbrushing and Specialized Makeup Certificate
★ This certificate is one component of the program Makeup Artistry Diploma.
You are welcome to attend a FREE INFORMATION SESSION to speak to an advisor in person.
This 40 hour course expands your knowledge and skills as a professional makeup artist. Topics covered include:
Basic application techniques
Facial makeup
Bodywork
Stenciling
Scarring
Bruising
Character makeup
Theatre makeup
The course requires a professional makeup kit ($350), an airbrush gun and compressor ($275 – value is $700) and one photoshoot ($50) that are charged at the time of registration.
---
PREREQUISITES – To enroll in this program, students must have completed the Makeup Artistry Certificate, or have equivalent knowledge and experience.
---
PROGRAM REGISTRATION
This course is not offered this term.
We plan to offer this course again in Spring 2018. Course scheduling details will be available in December 2017.
Course costs are subject to change each term; future course offerings may charge different amounts.