PROGRAM DESCRIPTION
Airbrushing and Specialized Makeup Certificate
★ This certificate is one component of the program
Makeup Artistry Diploma
.
For full details about this program, please attend a FREE INFORMATION SESSION. Click here for dates/times of upcoming information sessions.
Overview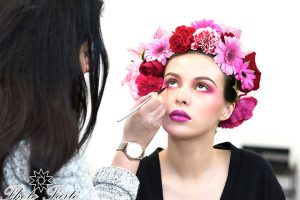 This 40 hour course expands your knowledge and skills as a professional makeup artist.
Topics covered include:
Basic application techniques
Facial makeup
Bodywork
Stenciling
Scarring
Bruising
Character makeup
Theatre makeup
The course requires a professional makeup kit ($350), an airbrush gun and compressor ($275 – value is $700) and one photoshoot ($50) that are charged at the time of registration.
To enroll in this course, students must have completed the Makeup Artistry Certificate, or have equivalent knowledge and experience.

REGISTRATION
Current course offeringsRefund policy
Course costs are subject to change each term; future course offerings may charge different amounts.
Course ID
Course dates / times
Course location
Cost
How to register
1751-2
April 19, 2017 to May 17, 2017
Wednesdays | Thursdays
6:00 pm to 9:00 pm
11 sessions
Riverway West
4340 Carson Street


Map

$925 course
$350 kit
$275 airbrush
$50 photoshoot
Registration is now closed
The course includes one photoshoot that will be scheduled on a Saturday.
Registration by phone or in person
:
A refund request must be submitted in writing and must include the original course registration receipt.
Fee payments originally made by credit card are credited back to the same card; for expired or invalid credit cards, refunds are made by cheque. Fee payments originally made by cash or cheque are made by cheque. Please allow 3 weeks for processing.

RELATED COURSES AND PROGRAMS