Program Description
You are welcome to attend a free information session to speak to an advisor in person.
---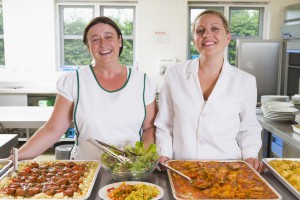 This 6 week program provides students with the skills and knowledge needed to work as food handlers in institutional settings. Students will learn to assemble and serve food and beverages while meeting food safety handling regulations. Students will earn industry-recognized certification for FoodSafe Level 1 and Workplace Hazardous Materials Information System (WHMIS), which will increase their employability. The program includes 4 weeks of classroom modules and a 2 week practicum.
Topics covered include:
Food assembly & service
Food safety
Worksafe practice
Equipment usage
Nutrition and specialized diets
Institutional sanitization/infection control
Communication, team skills and personal development
Professionalism and work ethic
Resume writing and interview skills
Current Course Offerings
---
PREREQUISITES – Students should meet all the following prerequisites before registering:
English 10 or equivalent
Must be in general good health with the ability to bend, stretch, and lift up to 20 pounds
Practicum placements require the completion of a criminal record check (cost is approximately $28); the instructor will provide the application form on the first day of class
---
Course costs are subject to change each term; future course offerings may charge different amounts.
Course Schedule
31 sessions
2018-Feb-27 to 2018-Apr-10
Tue | Wed | Thu | Fri | Sat
9:15 am to 3:15 pm
Course Location
Canada Way Education Centre
5310 Woodsworth Street
Map