PROGRAM DESCRIPTION
Ecological Landscape Design Certificate
For full details about this program, please attend a FREE INFORMATION SESSION. Click here to check for upcoming information sessions.
OverviewPrerequisitesGraduation requirementsFuture employmentInstructor bioPictures & student feedback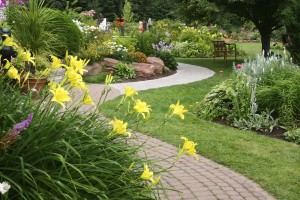 Yes, a garden can be stunning and low maintenance, a haven for wildlife in urban environments, a self-sustaining ecosystem — all at the same time!
Landscape health starts with intelligent design. In this course you will explore the intricate relationships within ecosystems and how you can work with them to create vibrantly beautiful and healthy gardens. Be prepared for an eye-opening experience that will challenge some commonly held beliefs and will leave you empowered with a new understanding of how a garden works.
Fees include handouts, unlimited access to our on-line plant database, unlimited access to our on-line course resources, community center (including library), discussion forums and more. Fees do not include textbook (Landscape Graphics — $25) or supplies.
This program is co-sponsored with Gaia College (www.gaiacollege.ca) and endorsed by the Society for Organic Urban Land Care (SOUL).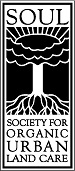 Students should meet the following prerequisites before registering:
Have internet access
Have an email account
Students must arrange their own transportation to off-site events
The Organic Master Gardener Certificate and Ecological Plant Knowledge courses are recommended as prerequisites; we see students struggle in this design course if they do not have sufficient knowledge of ecosystems and — very importantly — plants
Semester 1 is a prerequisite to Semester 2
This is an intensive course of study. Students are expected to:
Attend at least 90% of classes
Satisfactorily complete all assignments
Study and practice 6-8 hours a week
Actively participate in class study groups
There are no formal exams in this course, as the emphasis is on developing practical skills and the ability to synthesize information. Student evaluations are based on attendance, participation and the quality of assignments.

This course would be of interest to:
Those considering a career in landscape design
Landscapers wishing to offer more professional design services
Homeowners wishing to design their gardens in a professional manner
Landscape professionals can earn generous pre-approved Continuing Education credits to maintain industry certificates (ISA/CNLA/BCSLA/SOUL).

Rob Miksza
Rob has always had his hands in the soil. His grandparents were avid gardeners who started a victory garden in the shadow of World War 2. They owned a very small urban lot yet managed to produce amazing abundance to feed their family. It was they who instilled in him the sense of joy one can get from gardening and encouraged him to keep the family tradition of growing food. Now Rob shares that joy of gardening and knowledge with others.
Since his youth he passionately studied gardening and design. As an adult he continued his education, graduating from Fanshawe College as a Landscape Designer and later obtaining his Bachelor in Landscape Architecture from the University of Guelph. He currently works in this field with a focus on international park/resort design but maintains a personal love for home gardening. For the last 8 years he's worked with local organizations developing community gardens all over the Lower Mainland, while hosting workshops geared towards educating gardeners about producing food within the very specialized growing conditions of the West Coast.

I am very grateful for the Gaia College courses because I can actually answer the questions that my clients have and sell them on things they didn't even know existed!
Elly Cruickshank, Organic Landscaper
REGISTRATION
Current course offeringsRefund policy
Course costs are subject to change each term; future course offerings may charge different amounts.
---
Ecological Landscape Design Certificate – Semester 1
Course ID
Course dates / times
Course location
Cost
How to register
1000-1
16 sessions
September 26, 2017 to November 17, 2017
Tuesdays 6:30 pm to 9:30 pm
— and —
Saturdays 1:00 pm to 4:00 pm
Riverway West
4340 Carson Street


Map

— and —
Some classes will be off-site

$695
Online:

Register now


By phone: see numbers below
In person: see locations below
Ecological Landscape Design Certificate – Semester 2
We plan to offer this course again in the Winter 2018 semester.

Registration by phone or in person
:
A refund request must be submitted in writing and must include the original course registration receipt.
Fee payments originally made by credit card are credited back to the same card; for expired or invalid credit cards, refunds are made by cheque. Fee payments originally made by cash or cheque are made by cheque. Please allow 3 weeks for processing.

RELATED COURSES AND PROGRAMS