PROGRAM DESCRIPTION
FoodSafe Level 1 Certificate
Overview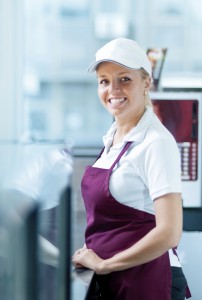 This course is designed for kitchen staff and dining room attendants. Upon successful completion of the course, participants will receive an official certificate in sanitary food handling from the Fraser Health Authority; this certificate is a requirement for many jobs that relate to food preparation and serving.
Topics covered include:
Microbiology
Food-borne illnesses
Personal hygiene and health
Serving and dispensing
Food preparation and protection
Receiving and storing food safely
Dish washing methods
Please bring your medical services card to the class.
Please bring a lunch.

REGISTRATION
Current course offeringsRefund policy
Course costs are subject to change each term; future course offerings may charge different amounts.
Course ID
Course dates / times
Course location
Cost
How to register
1664-2
June 17, 2017
Saturday
9:00 am to 5:00 pm
1 session
Course location changed to:
Canada Way Education Centre
5310 Woodworth Street


Map

$75
Online:

Register now


By phone: see numbers below
In person: see locations below
Registration by phone or in person
:
A refund request must be submitted in writing and must include the original course registration receipt.
Fee payments originally made by credit card are credited back to the same card; for expired or invalid credit cards, refunds are made by cheque. Fee payments originally made by cash or cheque are made by cheque. Please allow 3 weeks for processing.