Program Description
You are welcome to attend a free information session to speak to an advisor in person.
---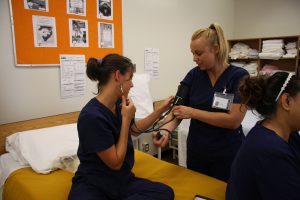 Join the community of committed Health Care professionals who provide care to those in need. This 29 week, full time program, will provide students with the knowledge and skills necessary to be employed as front-line care providers in care facilities or home-care settings. The course includes classroom theory, clinical instruction as well as supervised practicums in a variety of care facilities. Instruction is provided by qualified health professionals with extensive experience in the field of health care, both in clinical practice and teaching.
The program delivered by Burnaby Community & Continuing Education (Burnaby School District) is recognized by the BC Care Aide & Community Health Worker Registry. The program uses approved HCA Provincial Curriculum 2015. Graduates of our program are eligible for registration with the BC Care Aide & Community Health Worker Registry. The Burnaby School District's Health Care Assistant program has affiliation agreements in place with several Health Authorities in BC; this enables our school to request practicum placements in a variety of health care settings.
Students are responsible for purchasing their own uniforms and shoes; requirements and costs will be discussed in class. Students must provide their own transportation to practicum sites.
Current Course Offerings
---
APPLICATION REQUIREMENTS
Interested applications can attend a free information session to discuss the application process and ensure they meet all the admission requirements. If you missed the information session please contact 604-296-6932 extension 663001.
Complete and submit the HCA program application form
Complete a short interview
Proof of completion of Grade 10 (any country) or mature student status
Proof of English language proficiency
– Native speakers of English: English 10 or equivalent
– Non-native speakers of English: standardized English language proficiency test score (TOEFL/IELTS/CLB/CELPIP/CAEL)
International students must provide proof they have a study permit valid for the duration of the course
---
Registration is only open for students who have completed the application requirements and have been accepted into the Health Care Assistant Diploma program. Students must register at least 1 full week before the program start date in order to secure a spot.
Course costs are subject to change each term; future course offerings may charge different amounts.
HEALTH CARE ASSISTANT DIPLOMA
The next program will start Sept 2018.
Course Schedule
135 sessions
2018-Sept 17 to 2019-Apr-29
Mon | Tue | Wed | Thu | Fri
9:00 am to 3:30 pm
Course Location
Canada Way Education Centre
5310 Woodsworth Street
Map