HEALTH CARE ASSISTANT DIPLOMA
The HCA program will be offered next in January 2020. The exact dates will be posted soon.

Sign up to get email notifications about this program
Subscribe here to get email alerts
when a new free information session is scheduled, when a new program intake is announced, or when a new opportunity to submit enrolment applications becomes available. You can unsubscribe from our notification service at any time by replying to our email with "Unsubscribe" in the subject line.
---
PROGRAM DESCRIPTION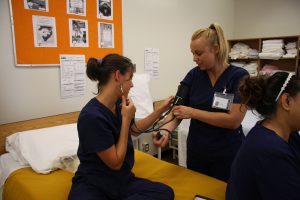 Join the community of committed Health Care professionals who provide care to those in need. This 30 week, full time program, will provide students with the knowledge and skills necessary to be employed as front-line care providers in care facilities or home-care settings. The course includes classroom theory, clinical instruction as well as supervised practicums in a variety of care facilities. Instruction is provided by qualified health professionals with extensive experience in the field of health care, both in clinical practice and teaching.
The program delivered by Burnaby Community & Continuing Education (Burnaby School District) is recognized by the BC Care Aide & Community Health Worker Registry. The program uses approved HCA Provincial Curriculum 2018. Graduates of our program are eligible for registration with the BC Care Aide & Community Health Worker Registry. The Burnaby School District's Health Care Assistant program has affiliation agreements in place with several Health Authorities in BC; this enables our school to request practicum placements in a variety of health care settings.
Students are responsible for purchasing their own uniforms and shoes; requirements and costs will be discussed in class. Students must provide their own transportation to practicum sites.
Students must register at least 1 full week before the program start date in order to secure a spot.
---
APPLICATION REQUIREMENTS
Registration is only open for students who have completed the application requirements and have been officially accepted into the program.
How to Apply:
Complete and submit the HCA program application form
Complete a short interview
Submit proof of completion of Grade 10 (any country) or mature student status
Submit proof of English language proficiency
– Applicants whose first language is English require English 10 or equivalent
– Applicant's whose first language is NOT English require a standardized English language proficiency test score (TOEFL/IELTS/CLB/CELPIP/CAEL)
International students must provide proof they have a study permit valid for the duration of the course
Interested applications can attend a free information session to discuss the application process and ensure they meet all the admission requirements. If you missed the information session please contact 604-296-6932 extension 663001.
Prerequisites before field trips and practicums:
Proof of current immunization for Hepatitis B
Proof of current immunization for flu (seasonal)
Proof of negative TB test or proof from TB Control that the applicant does not have active TB
Current criminal record check from the Ministry of Public Safety and Solicitor General including clearance to work with vulnerable adults (completed within 6 months of practicum)
FoodSafe 1 Certificate (Burnaby Community & Continuing Education offers this as a Saturday course)
---
GRADUATION REQUIREMENTS
To graduate, students must meet all the following requirements:
Successful completion of all courses and practicums
Minimum 70% final mark for assignments and tests
---
FUTURE EMPLOYMENT
Over 95% of our graduates find employment within 6 months of graduating! Our graduates now work in such locations as Capilano Care Centre, Normana, Lynn Valley Care Centre, Eagle Ridge Hospital, Nikkei Assisted Living Home, Belvedere Care Centre, Cartier Home, Success Care Facility, Nurse Next Door and New Westminster Home Health.
Students who successfully complete the program are eligible for registration with the BC Care Aide & Community Health Worker Registry.
Graduates will be qualified to work in long term care facilities (complex care, special care, mental health), acute care facilities, community home support and in assisted living areas.
---
PROGRAM CURRICULUM
Introduction to Practice
Health and Healing – Concepts for Practice
Caring for Individuals Experiencing Common Health Challenges
Caring for Individuals Experiencing Cognitive or Mental Challenges
Interpersonal Communications
Lifestyle and Choices
Personal Care and Assistance
Emergency First Aid
WHMIS training
Practicum 1 (Multi-Level Care)
Practicum 2 (Community-Assisted Living / Home Support / Group Homes)
Job Search
---
STUDENT FEEDBACK
The Health Care Assistant program and the variety of practicum experiences have opened up my eyes to a whole new field of opportunities for employment for HCAs.
I recently took the HCA program and really enjoyed it. I learned a lot; it was really fun and even more important, I'm working full time now!