Program Description
---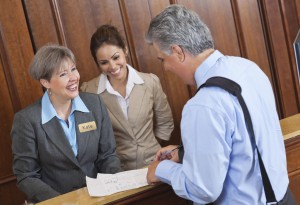 If you are interested in a career in the hospitality industry, or if you currently are working in a hotel and would like to move into a position with more responsibility, then our Hotel Management Program is right for you.
The program includes industry recognized certification from the American Hotel & Lodging Educational Institute. The program is suited for part time study, with courses offered on a rotating basis in the evening. Students can choose to take only one course, or to take several to earn a certificate or diploma. Most of the classes are conducted online; students must attend in person for the first and last class only.
Classes can count toward the following certifications:
Hospitality Management Diploma
Marketing and Sales Management Certificate
Rooms Division Certificate
Current Course Offerings
---
PREREQUISITES – Students should meet all the following prerequisites before registering:
Grade 12 English or equivalent
Internet access
Email account
---
Course costs are subject to change each term; future course offerings may charge different amounts.
Course Cost
$290 tuition
$100 textbook
Course Schedule
12 sessions
2018-May-22 to 2018-Jun-28
Tue | Thu
6:30 pm to 9:30 pm
Course Location
Online
First and last class are in person:
Burnaby South Secondary
5455 Rumble Street
Map
HOTEL AND RESTAURANT ACCOUNTING
Course Cost
$290 tuition
$100 textbook
Course Schedule
12 sessions
2018-Feb-27 to 2018-Apr-05
Tue | Thu
6:30 pm to 9:30 pm
Course Location
Online
First and last class are in person:
Burnaby South Secondary
5455 Rumble Street
Map
MANAGING HOSPITALITY HUMAN RESOURCES
Course Cost
$290 tuition
$100 textbook
Course Schedule
12 sessions
2018-Jan-16 to 2018-Feb-22
Tue | Thu
6:30 pm to 9:30 pm
Course Location
Online
First and last class are in person:
Burnaby South Secondary
5455 Rumble Street
Map
REVENUE MANAGEMENT IN HOSPITALITY
Course Cost
$290 tuition
$100 textbook
Course Schedule
12 sessions
2018-Feb-27 to 2018-Apr-05
Tue | Thu
6:30 pm to 9:30 pm
Course Location
Online
First and last class are in person:
Burnaby South Secondary
5455 Rumble Street
Map