HOTEL MANAGEMENT PROGRAM
---
PROGRAM DESCRIPTION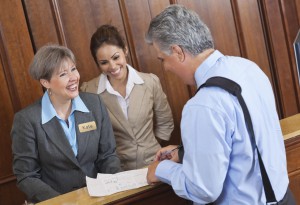 If you are interested in a career in the hospitality industry, or if you currently are working in a hotel and would like to move into a position with more responsibility, then our Hotel Management Program is right for you.
The program includes industry recognized certification from the American Hotel & Lodging Educational Institute. The program is suited for part time study, with courses offered on a rotating basis in the evening. Students can choose to take only one course, or to take several to earn a certificate or diploma. Most of the classes are conducted online; students must attend in person for the first and last class only.
Classes can count toward the following certifications:
Hospitality Management Diploma
Marketing and Sales Management Certificate
Rooms Division Certificate
---
PREREQUISITES
Students should meet all the following prerequisites before registering:
Grade 12 English or equivalent
Internet access
Email account
---
GRADUATION REQUIREMENTS
The following requirements must be met to successfully complete a course:
Final exam minimum 70% grade
---
FUTURE EMPLOYMENT
Graduates find employment in the hotel industry, either locally or abroad. Graduates can also find work in the cruise ship industry.
---
PROGRAM CURRICULUM
CURRICULUM FOR HOSPITALITY MANAGEMENT DIPLOMA
Managing Front Office Operations
Managing Housekeeping Operations
Hospitality Facilities Management and Design
Managing Hospitality Human Resources
Supervision in the Hospitality Industry
The Lodging and Food Service Industry
Leadership and Management in the Hospitality Industry
Security and Loss Prevention
Convention Management
Management of Food and Beverage Operations
Revenue Management
Hospitality Sales and Marketing
Hotel and Restaurant Accounting
CURRICULUM FOR SALES AND MARKETING MANAGEMENT CERTIFICATE
Hospitality Sales and Marketing
Convention Management and Service
Supervision in the Hospitality Industry
Hotel and Restaurant Accounting
Revenue Management: Maximizing Revenue in Hospitality Operations
A certificate will be awarded for successfully completing each course. A Marketing and Sales Management Specialization Certificate (MSMS) will be awarded after completing all 5 courses.
CURRICULUM FOR ROOMS DIVISION CERTIFICATE
Managing Front Office Operations
Security and Loss Prevention Certificate
Supervision in the Hospitality Industry
Managing Housekeeping Operations
Managing Technology in the Hospitality Industry
A certificate will be awarded for successfully completing each course. A Rooms Division Specialization Certificate (RDSC) will be awarded after completing all 5 courses.
---
COURSE OUTLINES
CONVENTION MANAGEMENT
Vancouver is a popular convention destination city. Training in Convention Management would be an asset to anyone hoping to enter the hotel industry, or for those already in the field who would like to expand their knowledge base. Learn the scope and segmentation of the convention and group business market, marketing and sales strategies to attract markets with specific needs, and techniques to meet those needs. Good English skills are recommended. This certificate course is accredited with the American Hotel & Lodging Educational Institute.
HOSPITALITY SALES AND MARKETING
This course focuses on a customer-oriented and practical approach for effectively marketing hotels and restaurants. The course explores the 'four Ps' (price, product, promotion, and place) as they relate to specific market segments, providing a customer-focused perspective. Get the latest information on trends shaping the lodging and food service industries, including technology and social media, marketing to Millennials, sustainability, and the "farm-to-fork" movement. Learners will gain insight from real-world examples of effective hospitality advertising campaigns and promotions, insider information from industry professionals sharing their perspectives on current issues in hospitality sales and marketing, and an understanding of the role the internet plays in today's hospitality marketing efforts.
LEADERSHIP AND MANAGEMENT IN HOSPITALITY
This course is designed to acquaint students with leadership, management, and quality issues facing today's hospitality/hotel industry. Learn about managing organizational change, traditional management roles and styles versus leadership in the 21st century, quality management, continuous improvement, power and empowerment, communication skills, goal setting and coaching, high-performance teams, diversity, strategic career planning, and ethics.
MANAGING FOOD AND BEVERAGE OPERATIONS
This course addresses successful management and operational tactics used in food and beverage operations, how food service operations improve quality standards while reducing expenses, and explores ways in which technology can be used to give guests greater value for their dining dollars and improve efficiency. The textbook incudes information on LEED certification, updates about technology in foodservice equipment, how social media is used in personal selling and advertising, a discussion of organizational culture and core values, and a new section on account settlement and the use of technology for guest ordering. The 'Menu' chapter incorporates the concepts of 'grab-n-go,' room service, and the farm-to-fork movement, as well as an updated section on evaluating menus.
MANAGING FRONT OFFICE OPERATIONS
If you would like to work in a hotel, this certificate course presents a systematic approach to front office procedures by detailing the flow of business through a hotel – from the reservations process to check-out and settlement. The course also examines the various elements of effective front office management, paying particular attention to the planning and evaluation of front office operations and to human resources management. Discover how guest concerns shape decisions and procedures for front office tasks. Other topics include automated system applications, central reservations and property management systems. This certificate program is accredited with the American Hotel & Lodging Educational Institute.
MANAGING HOSPITALITY HUMAN RECOURCES
Hospitality is a people industry. This course will teach you how to manage the important human resources who provide services within a hospitality operation. Learn about employment and workplace laws; discover the latest strategies for attracting employees, minimizing turnover, and maximizing productivity.
REVENUE MANAGEMENT IN HOSPITALITY
Learn the difference between strategic and tactical revenue management in the hospitality industry and why that distinction is critical. Discover the tools available to revenue managers. Learn about effectively maximizing revenue, vital issues to consider before implementing revenue management tactics, how revenue management is often misunderstood and applied inappropriately, the potential consequences of using revenue management poorly, as well as the benefits it can provide when done well.
MANAGING HOUSEKEEPING OPERATIONS
Housekeeping is critical to the success of every institution and employment opportunities in the field are growing. The course covers day-to-day components of housekeeping management, including planning and organization of various tasks required in a modern hotel. Topics covered include: planning and organizing the housekeeping department, housekeeping human resources, managing inventories, controlling expenses, safety and security, managing on-premises laundry, guest room cleaning, cleaning public areas, ceilings & walls & furniture & fixtures, beds & linens, uniforms, and carpets & floors.
SUPERVISION IN THE HOSPITALITY INDUSTRY
This online course will help you develop skills to address the expectations of hotel managers, guests, employees and governmental agencies. Learn to identify key supervisory skills and understand why supervisors sometimes fail. Develop the communication skills essential for effective leadership, increased productivity and increased performance standards. Turn basic human resource functions into motivational strategies.