PROGRAM DESCRIPTION
Landscape Horticulturalist Apprenticeship
For full details about this program, please attend a FREE INFORMATION SESSION. Click here to check for upcoming information sessions.
OverviewPre-requisitesGrad requirementsFuture employmentInstructor biosPictures & student feedback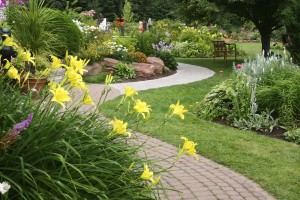 If you are considering a career in the landscape industry or are currently working as a landscaper, becoming an apprentice would be the first step to your Journeyperson certification.
The Burnaby School District's Community & Continuing Education office is an authorized industry training provider of Common Core Level 1 and Common Core Level 2 for the Landscape Horticulturist Apprenticeship.
The course fee covers all textbooks and materials.
---

Financial support and guidance
Landscape Horticulturist is now a Red Seal Trade — see Industry Training Authority (www.itabc.ca) for details.
Most students will qualify for financial support through the federal government's employment insurance (EI) program; applications should be submitted at least 6 weeks prior to the start of class. Visit the Service Canada website for details.
Further financial support may be available through the provincial government. Visit their Apprenticeship Training Support website for details.
Apprenticeship student loans are available at Apprentice Loans.
Hort Education BC provides guidance to apprentices and will sponsor students for the first level (Common Core Level 1). Visit the Hort Education BC website for details.

Students should meet the following prerequisites before registering:
Grade 10 English or equivalent
Physically fit
Students entering Level 1 must either attend an information session or email the program coordinator Karen Flynn (Karen.Flynn@sd41.bc.ca) for details on Industry Training Authority (ITA BC) and Employment Insurance (EI) registration
To receive the Journeyperson certification, students must complete 4 courses (called levels) and the required workplace hours.
Burnaby Community & Continuing is offering Level 1 and Level 2 of the Journeyperson certification. Students can then transfer to Kwantlen Polytechnic University or another institution to complete the remaining Level 3 and Level 4 courses.

Upon completion of your apprenticeship, you will receive Journeyperson certification. This identifies you as an expert in the field and gives you the opportunity to qualify for higher paying jobs that require professional certification — municipal parks departments, golf courses, nurseries, cemeteries and landscape contractors often require Journeyperson certification for employment.
Landscape Horticulturist jobs can include:
Landscape Maintenance and Lawn Care (residential and commercial)
– identify plants
– prune small trees, shrubs and perennials
– maintain a lawn
– control and prevent weeks and diseases using Integrated Pest Management methods
– operate equipment (mowers, string trimmers, edgers and back pack blowers)
Landscape Installation
– install plants and hardscape based on a design
– identify plants
– install walls, patios and water features
Catherine Dale
Catherine is the coordinator, as well as an instructor, for the Landscape Horticulturist Apprenticeship program. She completed her Journeyman certification in Landscape Horticulture in the early 1990's and has over 30 years of experience in the horticulture industry, working as a maintenance gardener for several municipalities, golf courses, private gardens, restoring heritage gardens and organically managing the GVRD's compost demonstration garden.
Catherine also teaches the Residential Landscape Technician Diploma program through Community & Continuing Education with the Burnaby School District. She has taught this entry-level program to landscapers for the past 17 years. In 2004, she received the 'Educator of the Year' award from the BC Landscape and Nursery Association. She also teaches Gaia College's Organic Master Gardener program and Plant Knowledge for Organic Gardeners, is a guest lecturer in the Ecological Landscape Design program. She is an instructor for the Horticulture Basics program offered by the BC Landscape and Nursery Association, preparing and presenting entry-level information to new landscape employees across the province. She was also an instructor at Capilano College's former Horticulture program in 2005-2006, teaching Soils and Integrated Pest Management.
Other qualifications:
Worked as head gardener on the mainland for the Land Conservancy restoring historical and cultural gardens
Completed the Provincial Instructor's Diploma in Adult Education
Involved with the Communities in Bloom program
In 2006 was honoured with the City of Burnaby's Environmental Award for work at the Eagles Estate heritage garden on the shores of Deer Lake
Became SOUL certified in Organic Landcare in 2005; will serve on the board of SOUL where her goal is to take Organic Landcare into the landscaping industry through education and certification
Is an expert on the subject of composting, having worked for 6 years for the GVRD as a workshop presenter and outreach coordinator for the program
---
Peter Isaacson
Peter's main interests lie in the ornamental horticulture industry because of its links to agriculture, the urban environment and the public. In his role as president of Desslsaa Horticultural Consultants Inc, he works on behalf of the ornamental nursery industry on pest management and pesticide related issues (minor uses, pesticide bylaws, risk reduction, IPM research). He also works with the Pest Management Regulatory Agency (PMRA), Agriculture and Agri-Food Canada (AAFC), Canadian Food Inspection Agency (CFIA), US IR-4 Program, NAFTA –Technical Working Group on pesticides and pesticide registrants to advance ornamental pesticide priorities, risk reduction and issues. He as conducted Integrated Pest Management presentations and training workshops for the nursery and landscape sectors across Canada, including wholesale nurseries, urban landscapers, local BC municipalities, retail garden centers and students.
Peter is a participant within the Institute of Sustainable Horticulture at Kwantlen Polytechnic University. He plans and conducts research trials on pest control products (efficacy, phytotoxicity), assembling funding applications and writing of reports. He also produces technical writing in integrated pest management, entomology, plant pathology, weed science and pesticide risk reduction including trade journal articles, technical bulletins, landscape apprenticeship course development for HortEducation BC and writing of national nursery crop profiles for Agriculture and Agrifood Canada's Pest Management Centre.
Other qualifications:
Ornamental plant health instructor in the School of Horticulture, Kwantlen Polytechnic University
Assisted in development of BC Horticulture Apprenticeship Plant Health curriculum
Canadian Nursery Landscape Association, National IPM/Minor Use Coordinator
BC Greenhouse Growers Association, Research and Technical Manager
Completion of Instructional Skills Workshop, Kwantlen Polytechnic Univserity
Completion of Maser of Pest Management, SFU
Completion of B.Sc. (Biology), University of Victoria
---
Brad Carlsen
Tim graduated from SFU (BA), then went on to complete Burnaby School District's Residential Landscape Technician Diploma program, as well as the Landscape Horticulturist Apprenticeship Red Seal certification. He owns and operates a local landscape maintenance company, and also instructs in Burnaby School District's Landscape Horticulture Apprenticeship program for Levels 1 and 2. He has extensive knowledge of horticulture and landscape maintenance with many hours of hands-on experience. He is also a member of the Canadian Landscape and Nursery Association and the BC Landscape and Nursery Association.
---
Tim Philpott – instructor for Soils module
Tim has been involved with soil science for many years as a teaching assistant in the Forest Science Faculty and the Faculty of Land and Food Systems at UBC. He has a strong teaching background in soil science, forest measurements, ecology, climatology, geomatics and basic statistics and is an enthusiastic advocate for soil conservation and management. Tim is currently working toward a Doctorate in Forestry. He is president of the Pacific Regional Soil Science Society in Vancouver and an active participant in many associated societies, including the Vancouver Mycological Society and the Pacific Regional Soil Science Society.

I found all the teachers approachable and able to answer my questions. You can see the teacher's primary goal is to ensure that we all learn and understand. They made every effort to make us comfortable with the subject matter.
The teachers were all great! Looking forward to seeing you all for level 2.
---
Level 2 — Graduates 2016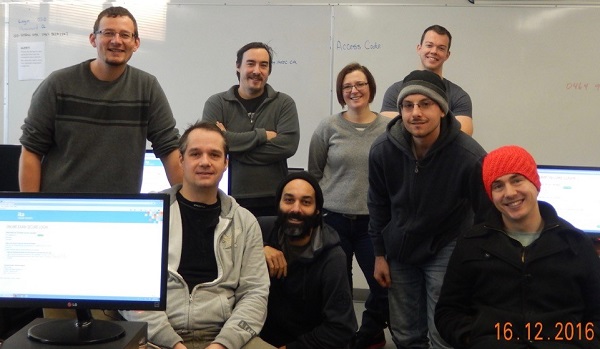 ---
Skills BC — Silver Winners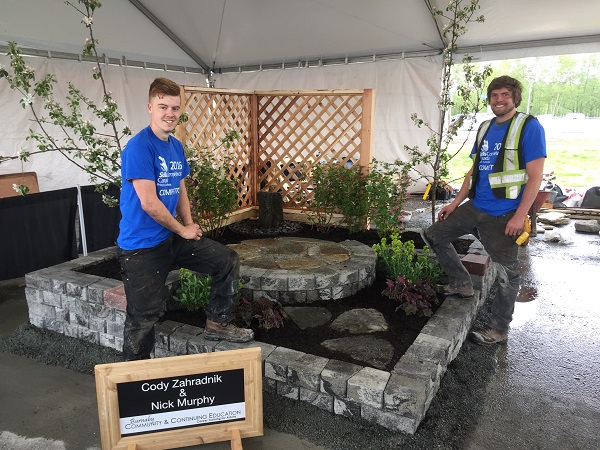 ---
Level 2 — Graduates 2015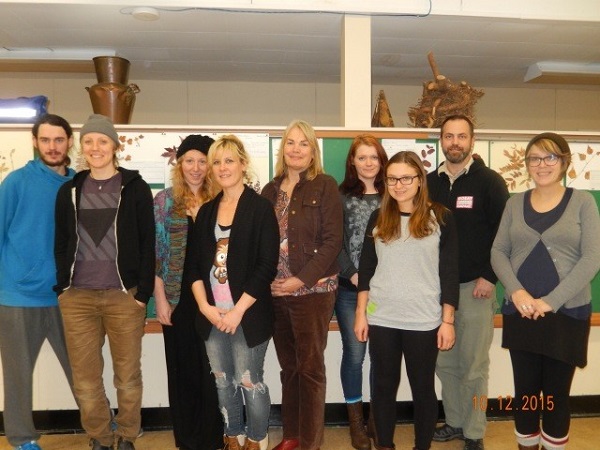 REGISTRATION
Current course offeringsRefund policy
Course costs are subject to change each term; future course offerings may charge different amounts.
---
Landscape Horticulturalist Apprentice – Level 1
Course ID
Course dates / times
Course location
Cost
How to register
1005-2
January 15, 2018 to February 23, 2018
Mon | Tue | Wed | Thu | Fri
Riverway West
4340 Carson Street


Map

TBD
Coming January 2018
Landscape Horticulturalist Apprentice – Level 2
Course ID
Course dates / times
Course location
Cost
How to register
1014-1
30 sessions
November 13, 2017 to December 22, 2017
Mon | Tue | Wed | Thu | Fri
9:00 am to 3:30 pm
Riverway West
4340 Carson Street


Map

$1250
Online:

Register now


By phone: see numbers below
In person: see locations below
Registration by phone or in person
:
A refund request must be submitted in writing and must include the original course registration receipt.
Fee payments originally made by credit card are credited back to the same card; for expired or invalid credit cards, refunds are made by cheque. Fee payments originally made by cash or cheque are made by cheque. Please allow 3 weeks for processing.

RELATED COURSES AND PROGRAMS