★ This certificate is one component of the program Makeup Artistry Diploma.
Program Description
You are welcome to attend a free information session to speak to an advisor in person.
---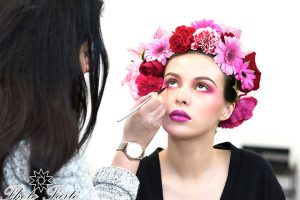 The Makeup Artistry program is designed by top makeup artists in the industry equipping you with the knowledge, skills, techniques and tools to prepare you for an exciting career as a makeup artist. It is taught by a professional artist and instructor with over 16 years of experience in the industry. She has worked at some of the top makeup artistry schools and agencies in Canada. Her students have advanced in various fields within the industry.
This 120 hour program focuses on the areas necessary to excel in the industry: fashion, photography, bridal, retail, film, television, stage, decades, editorial, celebrity and working on set. It also includes portfolio building and teaches you to market yourself.
This certificate consists of the following courses:
Makeup Artistry – Semester 1 (36 hours)
Makeup Artistry – Semester 2 (24 hours)
Makeup Artistry – Semester 3 (36 hours)
Makeup Artistry – Semester 4 (24 hours)
Current Course Offerings
---
Course costs are subject to change each term; future course offerings may charge different amounts.
MAKEUP ARTISTRY – SEMESTER 1
Course Cost
$750 course fee
$700 makeup kit
Course Schedule
12 sessions
2018-Jan-16 to 2018-Feb-22
Tue | Thu
6:00 pm to 9:00 pm
MAKEUP ARTISTRY – SEMESTER 2
Course Cost
$500 course fee
$50 photoshoot
Course Schedule
8 sessions
2018-Feb-28 to 2018-Mar-22
Wed | Thu
6:00 pm to 9:00 pm
MAKEUP ARTISTRY – SEMESTER 3
Course Cost
$750 course fee
$50 photoshoot
Course Schedule
12 sessions
2018-Mar-28 to 2018-May-03
Wed | Thu
6:00 pm to 9:00 pm
MAKEUP ARTISTRY – SEMESTER 4
Course Cost
$500 course fee
$50 photoshoot
Course Schedule
8 sessions
2018-May-09 to 2018-May-31
Wed | Thu
6:00 pm to 9:00 pm