EDUCATION ASSISTANT DIPLOMA
---
PROGRAM DESCRIPTION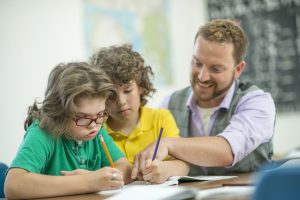 Are you looking for a rewarding career in the field of education? Education Assistants work collaboratively with teachers and other professionals to support students with exceptional learning needs. Consider becoming part of an educational team who are committed to creating inclusive learning experiences. A team whose goal is for students with physical, health, social/emotional, sensory and/or learning challenges to be the best they can be! Give yourself the opportunity to make a difference in the lives of students.
Our EA program will give you the knowledge and skills for employment in public and private schools, child care centres, and community drop in centres.
Full time – the full time EA program runs Monday through Friday, 9:00-3:30 pm for five months.
Part time – the part time EA program runs 2 evenings per week plus most Saturdays for one year.
Note: The practicum will take place Mon-Fri during the day for both part time and full time programs.
---
APPLICATION REQUIREMENTS
Both a full time and a part time EA program will be offered in 2019. A part time program will start January 8, 2019. A full time program will start July 8, 2019. The application deadline closed August 1, 2018. The applications are currently being reviewed. If more spots open up we will open the application process again. It will be announced here. Please check back again.
When we open up additional EA programs it will be announced here.
Application process:
Complete and submit the Application Form
Pay the $30 application fee; the procedure regarding submission is on the application form
Applicants must have experience working or volunteering with school-aged students
Provide 2 professional references (ideally related to your experience working with school-aged students).
Minimum education level is graduation from Grade 12 or equivalent in any country; submit proof of highest education level achieved
Submit resume
Submit a hand written bio
Submit proof of English language proficiency equivalent to Grade 12 English (free testing is available at information sessions)
Successful applicants will be contacted to schedule an interview
Interested applicants are welcome to attend a free information session. Free English assessment is available after the information session.
---
GRADUATION REQUIREMENTS
To graduate, students must meet all the following requirements:
Successful completion of all courses and practicums
Minimum 70% final mark for assignments and tests
---
FUTURE EMPLOYMENT
Qualified Education Assistants are currently in high demand in school districts throughout British Columbia. Our graduates are qualified to work in public and private schools, childcare centers and community drop in centres.
---
PROGRAM CURRICULUM
Our Education Assistant program includes classroom theory, clinical instruction as well as supervised practicums in a school setting.
Courses:
Foundations of History and Issues in Special Education
Child and Adolescent Development
Supporting Students with Atypical Development
Supporting Students with Communication
Positive Behaviour Interventions (Understanding Behaviour)
Augmented Communication Application Skills
Working Effectively in Schools
Evidence Based Teaching Practices
Introduction to ABA/POPARD
Supporting Personal Health Care
Supporting Vulnerable Students
Managing Challenging Behaviour- Non-Violent Crisis Intervention
First Aid