EDUCATION ASSISTANT DIPLOMA
Sign up to get email notifications about this program
Subscribe here to get email alerts
when a new free information session is scheduled, when a new program intake is announced, or when a new opportunity to submit enrolment applications becomes available. You can unsubscribe from our notification service at any time by replying to our email with "Unsubscribe" in the subject line.
---
PROGRAM DESCRIPTION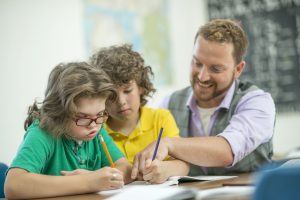 Are you looking for a rewarding career in the field of education? Education Assistants work collaboratively with teachers and other professionals to support students with exceptional learning needs. Consider becoming part of an educational team who are committed to creating inclusive learning experiences. A team whose goal is for students with physical, health, social/emotional, sensory and/or learning challenges to be the best they can be! Give yourself the opportunity to make a difference in the lives of students.
Our EA program will give you the knowledge and skills for employment in public and private schools, child care centres, and community drop in centres.
▶ Full-time program – runs Monday through Friday, 9:00-3:30 pm for six months
▶ Part-time program – runs 2 evenings per week plus Saturdays for one year
Note: The practicum will take place Mon-Fri during the day for both part time and full time programs.
---
APPLICATION REQUIREMENTS
Note: If 'in-person' classes are not allowed at the time the program starts, the first portion of the program will take place online.
Current and planned program intakes:
VANCOUVER FULL-TIME
◆ Schedule: 2020-Jul-06 to 2020-Dec-18 – Monday to Friday 9:00 am to 3:30 pm
◆ Location: Garibaldi Annex School, 1025 Slocan Street, Vancouver
◆ Course Fee: $5300
◆

We are no longer accepting applications.

BURNABY PART-TIME
◆ Schedule: 2020-Jan-13 to 2021-Jan-29 – Mondays & Thursdays 6:00 pm to 9:00 pm + Saturdays 9:00-3:30 pm
◆ Location: Burnaby Central School, 6011 Deer Lake Parkway, Burnaby
◆

This program is full and currently running.

BURNABY FULL-TIME
◆ Schedule: 2020-Jul-06 to 2020-Dec 18 – Monday to Friday 9:00 am to 3:30 pm
◆ Location: 7650 Sapperton Ave, Burnaby
◆ Course Fee: $5300
◆

We are no longer accepting applications. The next program dates will be announced soon. 

NEW WESTMINSTER PART-TIME
◆ Schedule: 2020-Sep-15 to 2021-Jun 24 – Tuesday & Thursday 6:00 pm to 9:00 pm and Saturdays 9:00 a.m. to 3:30 pm
◆ Location: Fraser River Middle School, 800 Queens Ave. New Westminster
◆ Course Fee: $5300
◆

We are currently conducting interviews. At this time we are not accepting applications. We will open it up again if spots become available.

.
APPLICATION PROCESS – Read the application requirements below carefully and submit the application form, supporting documents, and application fee as one complete package. All applications will be reviewed, qualified applicants will be short-listed for an interview, and successful applicants will be invited to register. Previously unsuccessful applicants who are able to complete all outstanding requirements are welcome to reapply with a new enhanced application package.
Complete and submit the Application Form
Applicants must have experience working or volunteering with school-aged students in a Canadian public school (indicate the number of hours accumulated and if any of your experience relates to working with special needs students; minimum 60 hours working with with children with special needs is recommended)
Provide 2 professional written references (ideally related to your experience working with school-aged students)
Minimum education level is graduation from Grade 12 or equivalent in any country; submit proof of highest education level achieved. Copies of transcripts are acceptable; official transcripts are not necessary.
Submit resume
Submit proof of English language proficiency equivalent to Grade 12 English
Pay the non-refundable $30 application fee; the procedure regarding fee payment is detailed on the application form
---
GRADUATION REQUIREMENTS
To graduate, students must meet all the following requirements:
Successful completion of all courses and practicums
Minimum 70% final mark for assignments and tests
---
FUTURE EMPLOYMENT
Qualified Education Assistants are currently in high demand in school districts throughout British Columbia. Our graduates are qualified to work in public and private schools, childcare centers and community drop in centres.
---
PROGRAM CURRICULUM
Our Education Assistant program includes classroom theory, clinical instruction as well as supervised practicums in a school setting.
Core Courses:
Foundations of History and Issues in Special Education
Child Development
Supporting Students with Diverse Needs
Supporting Students with Communication
Positive Behaviour Interventions
Introduction to Technology for Education Assistants
Working Effectively in Schools
Inclusive Supports in Education
Introduction to ABA/POPARD
Supporting Personal Health Care (Nursing Focus)
Supporting Personal Health Care (OT-PT Focus)
Working with Youth at Risk
Managing Challenging Behaviour-Non-Violent Crisis Intervention
First Aid
---
STUDENT FEEDBACK
I've always wanted to work with children in a school district, and now my dream has come true. I now have a permanent job with Vancouver School Board at a school which is four blocks from my house. I was part of the first cohort that took the program through Burnaby School District when it was introduced in 2018. It fully prepared me for the job I now have. I am so thankful I took this program!
Ramandeep M