PERMACULTURE DESIGN CERTIFICATE
This program is offered in the Winter/Spring semester only.

---
PROGRAM DESCRIPTION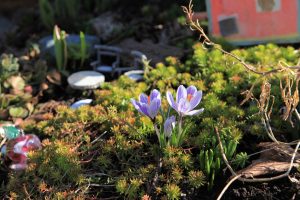 Gather with likeminded people to learn about how nature designs itself and how we can become sustainable designers ourselves. Learn how to map and design our land and our lives, plan for emergencies, grow organic food in all four seasons and work to build a more regenerative future.
The course empowers participants as permaculture designers, consultants and beginner teachers. Graduates will be able to use the word 'permaculture' legally in their practice, business or project. This eco-training certificate is a practical path for greening your life, resume and portfolio. Working toward certification is not a requirement. Students may attend the course without completing the material required to attain the certificates. It's a fun way to journey with likeminded people in an experiential, outdoor adventure in education.
Taught by a dynamic facilitator, this class caters to anyone wanting to learn regenerative design in a creative way while engaging with working systems. It is a flexible course with an ideal evening and weekend class schedule for workers, entrepreneurs, students or those with dynamic routines. Catering to the busyness of modern life, if you miss a class, you can jump in on the same module in a different class at no extra tuition costs (through the instructors) and there is no time limit to complete the certification. One on One make up classes are also available at a nominal fee.
Course Topics include design methods, patterns in nature, soils and composting, water, trees, animals, design for cool/tropical/arid climates, social permaculture, native food and medicine plants of the Coastal First Peoples, and much more. There are information sheets, interactive tools, as well as exciting living sites as our classroom. Optional hands-on activities throughout the course include: design charrettes, earthworks demonstration, integrative games, compost building, soil testing, plant & tree identification, medicine making and homesteading. This course is the only of its kind with an exciting teaching tool kit that transforms lectures into games and travels to many different permaculture farms, gardens and forest locations. Apply your learnings to the focus project for the program which is to start a map and design for where you live or an area of your choice.
Successful completion of this course offers graduates their choice of legitimate and formal certificate through Permaculture Institute (www.permaculture.org), Permaculture Association (www.permaculture.org.uk), Permaculture Research Institute (www.permaculturenews.org)
For more information about this program, email the instructors at kym@gigglingchitree.com and delvin@permaculture.org .
Join us for an online INFORMATION SESSION – Monday February 6, 7pm-8pm PDT.
Register by emailing us.
---
PREREQUISITES
Students should meet all the following prerequisites before registering:
---
GRADUATION REQUIREMENTS
Students who are not working toward certification do not have to complete any certification requirements or tests.
Students working toward certification will be assessed on the following requirements:
Individual map and design for an area of your choice
Questions/written work
Course journal
100% attendance is required – Students who miss classes can (1) make arrangements with the instructors to make up missed classes with other groups at no extra cost or (2) take private instruction to make up missed classes with the instructors at additional cost.
---
FUTURE EMPLOYMENT
Having a Permaculture Design Certificate from a recognized training institute will empower participants as permaculture designers, consultants and beginner teachers able to use the word permaculture legally in their practice, business or project. This sustainability education eco-training certificate is a practical path for greening your life, resume and portfolio. You will have a green edge when applying for jobs, grants or school programs. Completion of this course offers graduates their choice of legitimate and formal certificates through Permaculture Institute (USA), Permaculture Association (UK) or Permaculture Research Institute (AU).
The certification granted upon completion of the course will empower participants as permaculture designers, consultants and beginner teachers and to be able to use the word permaculture legally in their practice, business or project. This sustainability education eco-training certificate is a practical path for greening your life, resume and portfolio.
---
PROGRAM CURRICULUM
See the attached file for the course schedule and curriculum.
---
INSTRUCTOR BIOS
Kym Chi is of Scottish, English and German ancestry and gratefully settles on the West Coast of Turtle Island on the unceded and stolen lands of the Coast Salish Peoples. She is dedicated to the continued process of decolonizing herself and creating right relations with the land and people where she lives, works and visits. Kim is a dynamic, creative woman who homesteads, crafts herbal medicines, practices and teaches Permaculture and is the dean of the School of Permaculture at Pacific Rim college. She has received 3 certificates in Permaculture Design, completed multiple teacher trainings, taken a variety of advanced trainings and completed a Diploma in Permaculture Education. With a love of learning, she continues to take courses that grow her understanding of the natural world. Kym wishes to inspire creative self-expression and value-centred living to enrich and create healthy, abundant habitats and communities. With a focus on Social Permaculture, she mentors others on their life path and focusses on ways to support organizations and communities to become more resilient.
Delvin Solkinson is a community gardener, student and teacher from British Columbia, Canada. He creates free learning and teaching tools, writes articles, and makes videos. Completing a PDC, Diploma and Masters Degree with Bill Mollison, Delvin has also done 13 advanced courses and 13 teacher trainings with Permaculture Pioneers across the planet like David Holmgren, Robin Clayfield, Geoff Lawton and Robyn Francis. Life long learning includes a PDC with Rosemary Morrow in Greece, with Toby Hemenway in Portland as well as a second Diploma through the Permaculture Institute. Over five years he did an experimental Doctoral Degree with mentorship of Larry Santoyo. Serving as a Field Mentor through the Permaculture Institute, Diploma Tutor with Permaculture Association and an accredited teacher through the Permaculture Research Institute, Delvin continues to learn and to teach. Extensive learning with Looby Macnamara included numerous courses and a third Diploma through Permaculture Association. They have co-facilitated the CEED course and currently co-facilitate a Group Diploma Adventure for people perusing Permaculture Design Diplomas. Currently Delvin serves as the Diploma Program Coordinator for the Permaculture institute, supporting people's learning journey with permaculture. He pursues a Post-Doc in Permaculture Education though the Permaculture Academy along with Diploma Tutor training and Continuing Professional Development through the Permaculture Association. Delvin lives in the Elphinstone Rainforest and teaches at Pacific Rim College.
---
STUDENT FEEDBACK
The instructors, Delvin and Kym, provide an excellent introduction to the ethics, principles, and techniques of Permaculture. The instruction is more than I could have hoped for. Between the curriculum, and personal experiences of the instructors, the course offers a brilliant education and a profound experience.
S. Funk
Three years of University and a debt I'm still paying off today and I learnt more about the real world on this course than during that whole time. The majority of my posts, blogs and pub rants have been influenced by this philosophy. If you are interested in the natural world, sustainability, healthy living or just think the current way we do things in society is a little strange I'd recommend checking out Permaculture in some way or another.
Continuing education in permaculture studies, with the amazing teachers Devlin Solkinson and Kym Chi in Vancouver BC. I'm deeply inspired by the course that I'm in with them now, and highly recommend this to anyone interested in next level Earth stewardship gardening.
B. McGruff
This program was fantastic! Delvin and Kym created a welcoming learning environment , encouraged me to step out of my comfort zone and enabled me to grasp and learn the Permaculture ethics and principles in a way that was conducive to my learning style. I've left this program with the confidence and knowledge to further pursue my education and career in Permaculture. I have and will continue to recommend this program to others who are interested in Permaculture and look forward to the opportunity to learn with Delvin and Kym again.
M. Gravel
I quite enjoyed the permaculture design course, I always looked forward to attending every class because there was something different to learn each time. It also nicely tied in well with the Gaia College studies. Having different locations is a brilliant way to immerse ourselves in the natural learning of ecological design. It was never boring! The lessons were engaging and very interactive, I quite miss it!
M. Constant