HARDSCAPE INSTALLATION CERTIFICATE
---
PROGRAM DESCRIPTION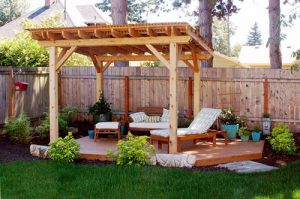 If you are new to Hardscape Installation, this part time program will introduce you to basic professional techniques with a focus on the use of hand tools. The class runs 1 evening and 1/2 day Saturday (1:00 pm – 4:30 pm) per week. Saturday is an outdoor, hands-on lab, held rain or shine.
Topics covered include:
Supplies and tools
Walkways, driveways and patios (concrete paver, stepping stone, flagstone, gravel)
Walls (dry stack, engineered, manufactured, wood, gabion)
Wood features, fences, setting posts
Water features
Low voltage lighting
Garden accents
Safety
Estimating and design
---
PREREQUISITES
Students should meet all the following prerequisites before registering:
Hardscape installation is physically challenging work and participants should be in good physical condition
Students are expected to wear steel toe work boots, gloves, safety glasses and weather-hardy workwear for the hands-on portion of the class
---
GRADUATION REQUIREMENTS
To graduate, students must meet all the following requirements:
Minimum 90% attendance in class and 100% attendance in labs
Minimum 75% on quizzes
Completion of all assignments and homestudy
---
FUTURE EMPLOYMENT
This course would be of interest to:
Those currently working in the horticulture industry who want to include hardscape skills in their qualifications
Owners of landscape businesses who have no hardscape experience but would like to offer hardscape installation to their customers
Homeowners wanting to install their own hardscape in a professional manner
---
STUDENT FEEDBACK
Janis had a wealth of information, was very pleasant to deal with and always helped explain anything we did not understand.
(Fall 2018)
The classes were great, very informative and lots of fun!! And I liked the instructors very much, very knowledgeable!
(Fall 2017)