Program Description
Your are welcome to attend a free information session to speak to an advisor in person.
---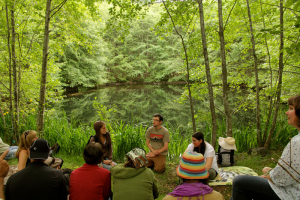 Gather with a group of environmentally conscious and creative people to learn and grow with plants and animals while exploring gardens, farms and forests across the Lower Mainland. Together we will learn how nature designs itself and how we can become sustainable designers ourselves. We will learn how to map and design our land and our lives, plan for emergencies, grow organic food in all four seasons and work to build a more sustainable future. By designing and consulting with an eye to energy efficiency and long term planning, we can save time, energy and money while living in alignment with our values and helping support other people to do so too.
This low-cost, 15 month weekend program is ultra-flexible and caters to the business of modern life while allowing you to observe changes throughout the seasons. If you miss a class, you can jump in on the same module in a different class at no extra cost and there is no time limit to complete the certification.
Successful completion of this course offers certificates through the graduate's choice of the Permaculture Research Institute Australia (www.permaculturenews.com) or the Permaculture Institute USA (www.permaculture.org) or the Permaculture Association UK (www.permaculture.org.uk).
The Permaculture Design Certification program is co-taught by Delvin and Kym, a dynamic male/female teaching team who are well known in the permaculture community.
Some classes take place off site. These locations are on bus routes in Greater Vancouver. A list of sites will be available from the instructor.
Current Course Offerings
PREREQUISITES – Students should meet all the following prerequisites before registering:
---
Course costs are subject to change each term; future course offerings may charge different amounts.
PERMACULTURE DESIGN CERTIFICATE
Online registration opens early July. Earlier registration must be done in person or by phone.
Course Schedule
15 sessions
2018-Sep-15 to 2016-Oct-26
Selected Saturdays
11:00 am to 5:30 pm
Course Location
Riverway West School
4340 Carson Street
Map
See the
attached file
for the course schedule and curriculum planned for the Fall 2018 course.
Additional expenses for the required books (web editions available):
Permaculture: A Designer's Manual (hardcover) by Bill Mollison = $150
Gaia's Garden (2nd edition) by Toby Hemenway = $30
Earth Users Guide to Permaculture (2nd edition hardcover) by Rosemary Morrow = $30