PLANT IDENTIFICATION CERTIFICATE
---
PROGRAM DESCRIPTION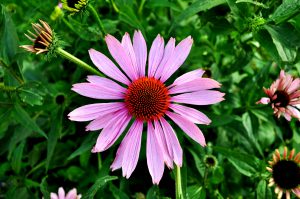 Plant Identification Certificate 1
We will explore the diversity and variety of west coast plants-from trees to perennials. Learn how landscape plants grow and where; look at their usability and their requirements for health and vigour; discuss and study plant characteristics (hardiness, form, size, structure, textures, colours and fragrance); discuss and categorize what the plants are, how they grow and how we can use them; discuss and interpret plant morphology as it applies to plant identification; and discuss the importance of 'right plant right place'. This course is suitable for plant enthusiasts and home gardeners who want to spend their plant dollars wisely as well as landscapers and horticulturists who want their customer's gardens to thrive.
Plant Identification Certificate 2
In this follow-up certificate course we explore the categories and groups of plants available and utilized in the Lower Mainland – from conifers to broadleaf evergreens – we will have a look at the diversity and variety around us. Topics include studying plant characteristics and morphological details (form, shape, structure, flower, fruit and foliage); examining the differences, the individual uniqueness and the character of plants; analyzing a variety of plants and how they grow, where they grow and how can we use them; discussing hardiness and overall long-term maintenance; and discussing how important 'right plant for the right place' is to make plants happy and healthy. This course is suitable for anyone with a passion for plants – from enthusiasts to professionals!
---
INSTRUCTOR BIO
Janis Matson
Janis Matson has been in the horticulture industry for over 30 years. Her Experience includes retail nursery, landscape design & installation, and arboriculture. She has owned and operated Shoreline Landscape Design in Burnaby for over 25 years. Janis is a Red Seal certified Landscape Horticulturist and an award-winning landscape designer and landscape contractor. She has recently focused on a new career teaching what she loves. Janis is a Science and Horticulture faculty instructor at Kwantlen Polytechnic University in Langley with the horticultural diploma and apprenticeship programs. She is also an instructor with Burnaby School District's Community & Continuing Education (CCE) Division in their apprenticeship and hardscape programs. Janis also developed the Burnaby CCE Hardscape Installer certificate program. Her academic accomplishments include a Provincial Instructor Diploma, Landscape Design and Horticulture Diploma, ISA Certified Arborist, ISA Level 1 Certified Tree assessor, ICPI Certified Concrete Paver Installer, Level 1 Certified Irrigation Technician (CIT), and a Floral Design Certificate.
Janis enjoys many outreach activities, including radio, articles, conference presentations, home shows, garden clubs, and she is an adult education instructor with VanDusen Botanical Garden. Janis loves to show and share her enthusiasm, photos, and knowledge of plants, landscape design and horticultural topic favourites.