LANDSCAPE HORTICULTURIST APPRENTICESHIP
---
PROGRAM DESCRIPTION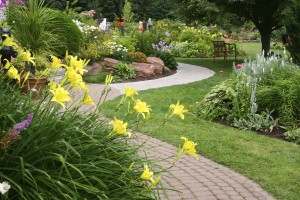 If you are considering a career in the landscape industry or are currently working as a landscaper, becoming an apprentice would be the first step to your Journeyperson certification.
The Burnaby School District's Community & Continuing Education office is an authorized industry training provider of Level 1 and Level 2 for the Landscape Horticulturist Apprenticeship.
The course fee covers all textbooks and materials.
Financial support and guidance
---
PREREQUISITES
Students should meet all the following prerequisites before registering:
Grade 10 English or equivalent
Physically fit
Students entering Level 1 must either attend an information session or email the program coordinator (peter.isaacson@burnabyschools.ca) for details on Industry Training Authority (ITA BC) and Employment Insurance (EI) registration
---
GRADUATION REQUIREMENTS
To receive the Journeyperson certification, students must complete 4 courses (called levels) and the required workplace hours (5280 hours).
Burnaby Community & Continuing Education is offering Level 1 and Level 2 of the Journeyperson certification. Students can then transfer to Kwantlen Polytechnic University or another institution to complete the remaining Level 3 and Level 4 courses.
---
FUTURE EMPLOYMENT
Upon completion of your apprenticeship, you will receive Journeyperson certification. This identifies you as an expert in the field and gives you the opportunity to qualify for higher paying jobs that require professional certification.
Landscape Horticulturists identify, propagate, cultivate, grow and maintain plants and manage injured and diseased trees and plants. They create and modify landscapes by measuring, designing and interpreting plans. They construct and maintain gardens, parks, golf courses and other landscape environments. Landscape Horticulturists install and maintain hard landscape elements such as retaining walls, patios, walkways and water features. In addition, they advise clients on issues related to horticulture and landscape construction. They are employed by landscape designers, architects and contractors, lawn service and tree care establishments, recreation facilities, golf courses, parks, nurseries, greenhouses and municipal, provincial and federal governments. They may also be self-employed. For detailed course information, refer to the Program Outline available on the ITA website: www.itabc.ca then 'find my trade', then Horticulturist, Landscape.
---
INSTRUCTOR BIOS
Peter Isaacson
Peter's main interests lie in the ornamental horticulture industry because of its links to agriculture, the urban environment and the public. In his role as president of Desslsaa Horticultural Consultants Inc, he works on behalf of the ornamental nursery industry on pest management and pesticide related issues (minor uses, pesticide bylaws, risk reduction, IPM research). He also works with the Pest Management Regulatory Agency (PMRA), Agriculture and Agri-Food Canada (AAFC), Canadian Food Inspection Agency (CFIA), US IR-4 Program, NAFTA –Technical Working Group on pesticides and pesticide registrants to advance ornamental pesticide priorities, risk reduction and issues. He as conducted Integrated Pest Management presentations and training workshops for the nursery and landscape sectors across Canada, including wholesale nurseries, urban landscapers, local BC municipalities, retail garden centers and students. Peter is a participant within the Institute of Sustainable Horticulture at Kwantlen Polytechnic University. He plans and conducts research trials on pest control products (efficacy, phytotoxicity), assembling funding applications and writing of reports. He also produces technical writing in integrated pest management, entomology, plant pathology, weed science and pesticide risk reduction including trade journal articles, technical bulletins, landscape apprenticeship course development for HortEducation BC and writing of national nursery crop profiles for Agriculture and Agrifood Canada's Pest Management Centre. Other qualifications:
– Ornamental plant health instructor in the School of Horticulture, Kwantlen Polytechnic University
– Assisted in development of BC Horticulture Apprenticeship Plant Health curriculum
– Canadian Nursery Landscape Association, National IPM/Minor Use Coordinator
– BC Greenhouse Growers Association, Research and Technical Manager
– Completion of Instructional Skills Workshop, Kwantlen Polytechnic University
– Completion of Master of Pest Management, SFU
– Completion of B.Sc. (Biology), University of Victoria
Craig Rawlyk
Craig has 19 years' experience in the field of horticulture. He spent 15 of those years in control of the day-to-day operation of the equipment and supply warehouse of one of BC's largest landscape companies. Craig is always eager to educate, instruct and apply advanced knowledge of production methods, machine maintenance, inventory audits and safety.
Tom O'Sullivan
Tom completed his Senior Certificate in Commercial Horticulture in Ireland (2 year program) and his Red Seal Landscape Horticulture Certification in BC, and has held several unique employment positions in Ireland, Holland, Denmark and here in BC. He has taught horticulture programs at many institutions both in BC and abroad. Tom currently is employed in Grounds Maintenance Operations with a large provincial institution.
---
STUDENT FEEDBACK
I found all the teachers approachable and able to answer my questions. You can see the teacher's primary goal is to ensure that we all learn and understand. They made every effort to make us comfortable with the subject matter.
The teachers were all great! Looking forward to seeing you all for level 2.