PLANT IDENTIFICATION CERTIFICATE
---
PROGRAM DESCRIPTION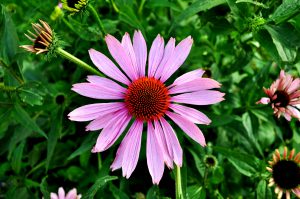 Plant Identification Certificate 1
We will explore the diversity and variety of west coast plants-from trees to perennials. Learn how landscape plants grow and where; look at their usability and their requirements for health and vigour; discuss and study plant characteristics (hardiness, form, size, structure, textures, colours and fragrance); discuss and categorize what the plants are, how they grow and how we can use them; discuss and interpret plant morphology as it applies to plant identification; and discuss the importance of 'right plant right place'. This course is suitable for plant enthusiasts and home gardeners who want to spend their plant dollars wisely as well as landscapers and horticulturists who want their customer's gardens to thrive.
Plant Identification Certificate 2
In this follow-up certificate course we explore the categories and groups of plants available and utilized in the Lower Mainland – from conifers to broadleaf evergreens – we will have a look at the diversity and variety around us. Topics include studying plant characteristics and morphological details (form, shape, structure, flower, fruit and foliage); examining the differences, the individual uniqueness and the character of plants; analyzing a variety of plants and how they grow, where they grow and how can we use them; discussing hardiness and overall long-term maintenance; and discussing how important 'right plant for the right place' is to make plants happy and healthy. This course is suitable for anyone with a passion for plants – from enthusiasts to professionals!
---
Related Course – Gardening with Native Plants
This 2-day workshop is for new or experienced gardeners, landscape professionals and designers looking for a practical way to add native plants to their gardens. Understand the relationships between native plants and wildlife, and which native plants attract pollinators, songbirds, and hummingbirds. Learn 25 of the most useful native plants that are well suited for the urban environment, as well as others that can tolerate different site conditions in the landscape. For course dates, scroll up and click the GREEN button.