SUSTAINABLE LANDSCAPE DESIGN CERTIFICATE
The next Sustainable Landscape Design certificate course starts Sept 2023.
---
PROGRAM DESCRIPTION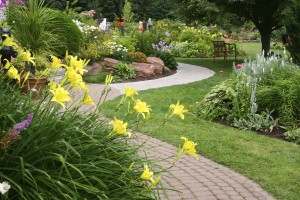 Create beautiful outdoor spaces that are in harmony with the natural environment and are based on sound design principles. Learn basic principles of drafting, drawing, imaging, and composition. Students will complete a design plan with step-by-step instruction. This program is ideally suited for landscape professionals seeking to provide design services to their clients, for individuals who want to become landscape designers, and for home gardeners interested in designing their own gardens.
TOPICS INCLUDE
– Evolution of garden design
– Design concepts
– Drafting
– Plans, elevations, construction details
– Soils
– Botany
– Hardscapes
– Grading and Drainage
– Estimating and contracts
– Landscape designs for the future
– Field trips (3)
Successful completion will be based on a design project; students will be assigned homework. Some supplies are required, and will be discussed in the first session. A manual is included in the course fee. Saturday classes may be off-site; transportation irequired. Bring a packed lunch on Saturdays.
---
GRADUATION REQUIREMENTS
Students are expected to:
Attend at least 90% of classes
Satisfactorily complete a design project.
---
FUTURE EMPLOYMENT
This course would benefit:
Those considering a career in landscape design
Landscapers wishing to add design services to their portfolio
---
INSTRUCTORS
LISA ATKINS
Lisa Atkins is passionate about good, sustainable garden design that evolves into a healthy, mature garden. She brings this reality to life through her gardening business, The Cultivated Gardeners (www.thecultivatedgardeners.com). Lisa completed the UBC Garden Design Certificate program, and is a Red Seal Horticultural Technician. Lisa became one of the first SOUL Certified Organic Land Care Professionals in Vancouver, and for ten years was the original lead instructor for Burnaby Continuing Education's former Ecological Garden Design.
---