Program Description
Your are welcome to attend a free information session to speak to an advisor in person.
---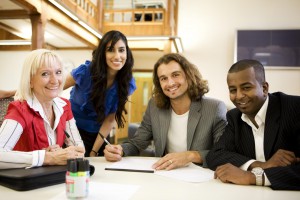 This course is designed for individuals who are either currently teaching ELL (English Language Learners) or for those wish to enter the English language teaching field. It gives students the necessary skills in classroom management, lesson planning and a variety of teaching methodologies.
This program is certified by TESL Canada, and is taught by an experienced and credentialed team of teachers. Students are prepared for teaching Reading, Writing, Speaking, Listening, Grammar and Presentation skills. Students also participate in seminars to discuss topics such as classroom management, matching learning outcomes to activities, conducting assessments and developing a teaching style of their own. Students will leave the program with a portfolio of lesson plans and activities they have organized.
PROGRAM CONTENTS
TESOL 500 – Reading Skills & Teaching Methodologies
TESOL 501 – Writing Skills & Teaching Methodologies
TESOL 502 – Pronunciation, Speaking and Listening Skills & Teaching Methodologies
TESOL 503 – Grammar and Vocabulary Skills & Teaching Methodologies
Practicum – Students who successfully complete the TESOL courses are eligible to register for the practicum (20 hours). Students must meet the minimum English proficiency requirements to be eligible to take the practicum. The observation component (10 hours) can be done in conjuction with the TESOL courses, but the remainder of the practicum must take place after the TESOL courses are completed. Successful completion of the practicum is required to obtain the TESOL certificate.
Current Course Offerings
---
PREREQUISITES – Students should meet all the following prerequisites before registering:
Proof of English 12 or equivalent — English language assessment is available after the free information sessions
A university degree is not required to enroll in our TESOL – ELL Teacher Training program. However, an undergraduate degree will be required by TESL Canada if you decide to pursue professional certification. See TESL Canada (www.tesl.ca) for current English proficiency and education requirements.
The practicum requires successful completion of the course TESOL – ELL Teacher Training and English 12 (or equivalent).
---
Course costs are subject to change each term; future course offerings may charge different amounts.
TESOL – ELL TEACHER TRAINING
Course Cost
$1990 plus $80 for book
Course Schedule
34 sessions
2018-Jan-23 to 2018-Apr-24
Mon | Wed | Thu
6:30 pm to 9:30 pm
Course Location
Burnaby South Secondary School
5455 Rumble Street
Map
Course Schedule
2018-Apr-18 to 2018-Jun-13
Practicum dates / times vary
Course Location
Practicum locations vary