Program Description
You are welcome to attend a free information session to speak to an advisor in person.
---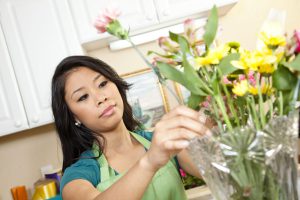 Learn floral arranging skills for both business and pleasure through this diploma program.
Students may receive credit for courses taken at other institutions upon presentation of proof of successful completion.
Course supply fees are extra.
The full diploma program consists of the following courses:
Floral Arranging – Level 1
Floral Arranging – Level 2
Churches, Banquets & Funerals
Special Occasions
Silk & Dried
Christmas Basic Designs
Weddings
Current Course Offerings
---
Course costs are subject to change each term; future course offerings may charge different amounts.
FLORAL ARRANGING – LEVEL 1
Course Schedule
8 sessions
2018-Jan-18 to 2018-Mar-08
Thursdays
6:30 pm to 9:00 pm
FLORAL ARRANGING – LEVEL 2
Course Schedule
8 sessions
2018-Jan-09 to 2018-Feb-27
Tuesdays
6:30 pm to 9:00 pm
FLORAL ARRANGING – LEVEL 2
Course Schedule
8 sessions
2018-Apr-12 to 2018-May-31
Thursdays
6:30 pm to 9:00 pm
Course Schedule
8 sessions
2018-Apr-11 to 2018-May-30
Wednesdays
6:30 pm to 9:00 pm
Course Schedule
8 sessions
2018-Jan-10 to 2018-Feb-28
Wednesdays
6:30 pm to 9:00 pm
Course Schedule
8 sessions
2018-Apr-10 to 2018-May-29
Tuesdays
6:30 pm to 9:00 pm
Course Schedule
6 sessions
2018-Jun-05 to 2018-Jun-21
Tue | Thu
6:30 pm to 9:00 pm