LANGUAGE INSTRUCTION FOR NEWCOMERS TO CANADA
(LINC PROGRAM)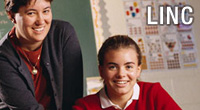 ---
PROGRAM DESCRIPTION
The Language Instruction for Newcomers to Canada (LINC) program offers free classes for recent immigrants. These courses focus on vocabulary development, grammar, speaking and listening, reading and writing, and settlement themes. These classes help students learn English for day-to-day living.
WHO CAN TAKE LINC CLASSES? – To qualify for LINC classes, students must meet all the following criteria:
☆ Permanent resident or convention refugee (Canadian citizens are not eligible)
☆ 17 years of age or older
TUITION FREE – All LINC classes are free of charge.
FREE CHILDCARE – Free childcare is available to parents or guardians who enrol in LINC classes at our Edmonds and Windsor school locations. Through play, children will learn English and school readiness skills. To qualify, children must be between 18 months and five years of age. Space is limited and a wait list may apply.
---
REGISTRATION STEP 1 – ASSESSMENT TEST
Students must phone an assessment centre to make an appointment for a free assessment test.

Testing centre 1
Testing centre 2
Western ESL Services
208-2525 Commercial Drive
Vancouver, BC V5N 4C1
604-876-5756
— or —
Surrey Language Assessment Centre
202-7337 137th Street
Surrey, BC V3W 1A4
604-507-4150
---
REGISTRATION STEP 2 – COURSE REGISTRATION
After the assessment test is completed, the assessment centre will contact you withing two weeks with the results. You must go back to the assessment centre to pick up a referral letter and bring the letter to our registration office. To register for LINC classes with the Burnaby Board of Education, go to one of our registration offices:

EDMONDS RESOURCE CENTRE
School location:
Room 209
7355 Canada Way
Burnaby, BC
Office hours:
Mondays 10:30 am
Wednesdays 12:00 pm
SOUTH BURNABY ADULT EDUCATION CENTRE (SBAEC)
School address:
5455 Rumble Street
Burnaby, BC

(The SBAEC office is located in the portables on the west side of Burnaby South Secondary School; it is easiest to access the office via Watling Street.)
Office hours:
Starting 2019-Mar-18, this office is no longer accepting LINC registrations.
WINDSOR NEIGHBOURHOOD LEARNING CENTRE
School address:
6907 Gilley Avenue
Burnaby, BC
Office hours:
Tuesdays 11:30 am
Tuesdays 5:30 pm
Wednesdays 2:00 pm
---
RESOURCES AND PARTNERS
USEFUL WEBSITES
ORGANIZATIONAL MEMBERS
BC TEAL
ELSANet
AMSSA – The Affiliation of Multicultural Societies & Services Agencies of BC
Burnaby Intercultural Planning Table
Literacy Now Burnaby
BC School District Continuing Education Directors' Association
LERN
Burnaby Board of Trade
SWIS Program Advisory Committee
ENHANCED PROGRAM DELIVERY PARTNERS
BCIT Nursing Program
Burnaby Art Gallery
Burnaby Family Life
Burnaby Intercultural Planning Table
Burnaby Parks, Recreation and Cultural Services
Burnaby Public Library
Canucks Family Education Centre
City of Burnaby
City of Burnaby Recycling Program
Coast Mountain Bus Company
Douglas College Training Group
Edmonds Community School
Indian Residential School Survivors Society
Peoples' Law School
RCMP Auxiliary
RCMP GRC/Burnaby Detachment
VanCity Credit Union
Vancouver College of Dental Hygiene
Simon Fraser University
South Burnaby Neighbourhood House
STUDENT SERVICES
GT Hiring Solutions
ICES International Credential Evaluation Services
IELTS Testing Centre
BC Children's Hospital
TRAC – Tenant Resource and Advisory Centre
BC Ministry of Child and Family Development (MCFD)
Immigrant Services Society of British Columbia
MOSAIC
S.U.C.C.E.S.S.
Rotary Club of Burnaby