BUILDING SERVICE WORKER CERTIFICATE
---
PROGRAM DESCRIPTION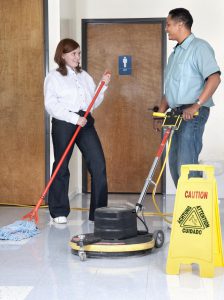 The Building Service Worker Certificate program provides the working knowledge required to qualify as a building service worker.
The course uses a combination of classroom instruction and practical hands-on experience to train students.
Topics covered include:
Cleaning
Chemical use
Equipment
Floor care
Safety
Workplace Hazardous Materials Information System (WHMIS) training
CLASS LOCATION
Burnaby North Secondary School
Room 108, North Campus
(Big building closest to Hastings St)
751 Hammarskjold Dr, Burnaby
Parking is available; please only park in areas specifically designated as student parking.

---
PREREQUISITES
Students should meet all the following prerequisites before registering:
At least 19 years old
Strong English skills
---
GRADUATION REQUIREMENTS
A certificate will be issued upon successful completion of the course. To graduate, students must meet all the following requirements:
Minimum 90% attendance is required
Completion of all course requirements for theory, practice and teamwork
---
FUTURE EMPLOYMENT
Graduates of the program will be qualified to apply for janitorial positions in both public institutions such as school districts, hospitals and government facilities. Graduates can also find employment with private contractors who provide cleaning services to corporate clients.
---
STUDENT FEEDBACK
It was actually a great class with a fantastic teacher! I'm glad I chose Burnaby!
(August 2017)
The information was given in a way that was easy to understand. The instructor was easy going and funny. I enjoyed the class very much.
The instructor took time to explain and make sure everyone always understood the lessons. He was awesome.