Program Description
---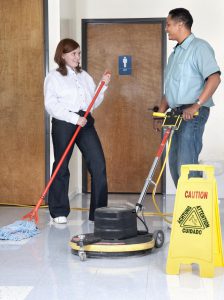 The Building Service Worker Certificate program provides the working knowledge required to qualify as a building service worker.
The course uses a combination of classroom instruction and practical hands-on experience to train students.
Topics covered include:
Cleaning
Chemical use
Equipment
Floor care
Safety
Workplace Hazardous Materials Information System (WHMIS) training
Current Course Offerings
---
PREREQUISITES – Students should meet all the following prerequisites before registering:
At least 19 years old
Strong English skills
---
Course costs are subject to change each term; future course offerings may charge different amounts.
BUILDING SERVICE WORKER CERTIFICATE
Course Schedule
20 sessions
2018-Jan-08 to 2018-Feb-08
Mon | Tue | Wed | Thu
6:00 pm to 10:00 pm
BUILDING SERVICE WORKER CERTIFICATE
Course Schedule
20 sessions
2018-Feb-05 to 2018-Mar-12
Mon | Tue | Wed | Thu
6:00 pm to 10:00 pm
BUILDING SERVICE WORKER CERTIFICATE
Course Schedule
20 sessions
2018-Mar-05 to 2018-Apr-23
Mon | Tue | Wed | Thu
6:00 pm to 10:00 pm
BUILDING SERVICE WORKER CERTIFICATE
Course Schedule
20 sessions
2018-Apr-16 to 2018-May-17
Mon | Tue | Wed | Thu
6:00 pm to 10:00 pm
BUILDING SERVICE WORKER CERTIFICATE
Course Schedule
20 sessions
2018-May-14 to 2018-Jun-18
Mon | Tue | Wed | Thu
6:00 pm to 10:00 pm
BUILDING SERVICE WORKER CERTIFICATE
Course Schedule
20 sessions
2018-Jul-09 to 2018-Aug-13
Mon | Tue | Wed | Thu
9:00 am to 1:00 pm