Program Description
You are welcome to attend a free information session to speak to an advisor in person.
---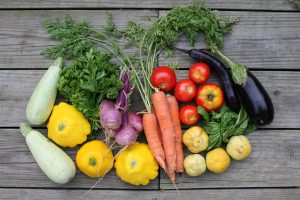 In 3 short generations, most of us have lost the knowledge to grow our own food. Organic fruits and vegetables not only keep you healthy, but they create sustainable local food systems. If you are concerned about where your food comes from, what's in it or on it, or simply want to get the best nutrition possible for your family -– growing your own vegetables and fruit is the answer.
Students are encouraged to grow their own garden during the year, putting their newly acquired knowledge and skills to practice. In this unique and timely course, learn essential organic gardening and permaculture techniques to:
Create and maintain healthy soil, which in turn can grow nutritious food
Analyze and optimize the growing conditions in your garden
Creatively collect, use and preserve water for optimal garden health
Use holistic solutions for plant health problems ("pests" and "diseases")
Select, plant, maintain, and harvest a large variety of food plants for year-round enjoyment
Store your harvest
Save your own seeds
Current Course Offerings
---
PREREQUISITES
This course is open to everyone; no prior gardening experience is required. The Organic Master Gardener Certificate program would be beneficial either before, during or after this program.
Computer skills and an internet connection are essential for access to resource materials, class communications and education updates. This is a paperless course.
---
Course costs are subject to change each term; future course offerings may charge different amounts.
GROWING FOOD IN THE CITY CERTIFICATE
Course Schedule
8 sessions
Sunday 2018-Feb-25
Sunday 2018-Mar-11
Sunday 2018-Mar-25
Sunday 2018-Apr-08
Sunday 2018-Apr-22
Sunday 2018-May-06
Sunday 2018-Jun-03
Sunday 2018-Sep-09
9:00 am to 3:30 pm
Course Location
Riverway West School
4340 Carson Street
Map