Program Description
---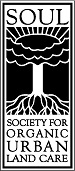 Be prepared for a major shift in paradigms! This is a gardening course, and so much more — this course is intense, challenging and inspiring. Students have called it "life changing" because once we truly understand the connection between soil health, plant health, human health and environmental health, we look at the world with different eyes. Finally, a comprehensive organic gardening course for urban garden enthusiasts! Gather with like-minded, environmentally conscious gardeners to learn about new topics:
Learn to create gardens without harmful chemicals
Become involved with SOUL (Society for Organic Urban Land Care) and share your knowledge with your community
Gain essential skills to start or enhance your own business in the rapidly growing organic land care industry
Prepare to write the SOUL Organic Certification exam for land care professionals
Earn generous continuing education credits to maintain your industry certifications (ISA, CNLA, BCSLA, SOUL)
This program is offered in partnership with Gaia College (www.gaiacollege.ca).
Current Course Offerings
---
PREREQUISITES – Students should meet all the following prerequisites before registering:
Have internet access
Have an email account
Have basic gardening tools (including bypass pruners)
Students must arrange their own transportation to off-site events
---
Course costs are subject to change each term; future course offerings may charge different amounts.
ORGANIC MASTER GARDENER CERTIFICATE
Coruse Schedule
15 sessions
2018-Apr-10 to 2018-May-29
Tuesdays 6:30 pm to 9:30 pm
Thursdays 6:30 pm to 9:30 pm
Saturdays 1:00 pm to 4:00 pm
Course Location
Riverway West School
4340 Carson Street
Map