DENTAL RECEPTIONIST CERTIFICATE


---
PROGRAM DESCRIPTION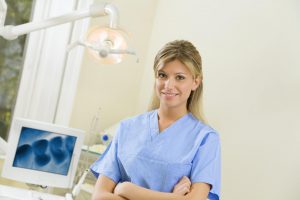 Dental Receptionists are highly valued employees responsible for coordinating all aspects of a dental visit. Learn the skills required to efficiently handle the day to day operation of a dental office: appointment scheduling, patient and insurance billing, dental records upkeep and the maintenance of all systems crucial to the success of the dental practice.
Courses:
Dental Anatomy and Terminology
Understanding the Practice & the Patient
Dental Billing Theory
Record Management
Record Management Application
Job Search
Practicum (80 hours)
The program includes time on computers so students have the opportunity to practice scheduling and entering patient information just like they would in a dental office. Students are expected to study a lot outside of class time so that they can memorize the required dental terminology.
---
PREREQUISITES
Students should meet all the following prerequisites before registering:
High school graduation (in any country)
Strong verbal and written English skills; English 12 or equivalent is highly recommended — English language assessment is available if required
Basic computer skills
---
GRADUATION REQUIREMENTS
To graduate, students must meet all the following requirements:
Minimum average 70% in assignments and exams of the theory component
Successful completion of practicum (80 hours)
Good attendance (the expectation is that students attend 100% of classes)
---
FUTURE EMPLOYMENT
As the dental industry is continually growing, there are always new jobs available.
Graduates may apply for Dental Receptionist or Dental Office Administrator positions. You can expect to earn $20–$30 per hour to start, depending on the type of office and location.
Dental office hours vary from 7:00 am – 9:00 pm, Monday through Sunday, allowing part time and full time employment.
---
STUDENT FEEDBACK
I liked how you were made to feel welcome and got the knowledge you needed.