Program Description
---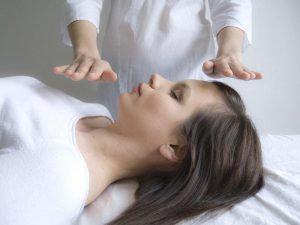 Reiki is a technique for deep relaxation and releasing tension. During a Reiki session, the universal life force energy (also known as Chi or Prana) is guided to the receiver through a series of hand positions. The deep relaxation that happens in a session allows for the activation of the body's natural healing abilities. Reiki helps nourish our body and energy system. It promotes healing on all levels: physical, mental, emotional spiritual. The benefits of Reiki include: relieved pain or discomfort, speeding up recovery from an injury or illness, emotional balance, inner peace, spiritual growth, concentration and sharper intuition. Reiki is currently practiced all over the world in hospitals, wellness centers, spas, resorts, homes and corporate offices. As a practitioner, you can perform Reiki on yourself, other people, animals and plants.
We offer all 4 levels of Reiki certification:
Reiki Practitioner Level 1
Reiki Practitioner Level 2
Reiki Practitioner Level 3 (Master)
Reiki Master Teacher Training
Course fees include a manual and a certificate that is approved by the Canadian Reiki Association (www.reiki.ca).
Please wear comfortable clothing. Bring your lunch and a water bottle; tea and healthy snacks will be served during the day. Please notify us in advance if you have any food allergies.
Current Course Offerings
---
Course costs are subject to change each term; future course offerings may charge different amounts.
Course Schedule
1 session
2018-Jan-27
Saturday
9:00 am to 4:30 pm
Course Schedule
1 session
2018-Mar-10
Saturday
9:00 am to 4:30 pm
REIKI LEVEL 3 (MASTER PRACTIONER)
Course Schedule
1 session
2018-Apr-07
Saturday
9:00 am to 4:30 pm
REIKI LEVEL 4 (MASTER TEACHER)
Course Schedule
2 sessions
2018-May-05 to 2018-May-12
Saturdays
10:00 am to 4:00 pm