MEDICAL OFFICE ASSISTANT DIPLOMA
The MOA program is not offered this semester.

---
PROGRAM DESCRIPTION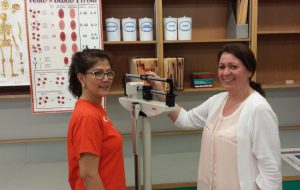 The Medical Office Assistant (MOA) program prepares students for a rewarding career in medical offices, hospital departments, x-ray and physiotherapy offices, laboratories and other health-related institutions. Topics covered include:
Orientation / Information session
Medical Terminology Level 1
Medical Terminology Level 2
Medical Office and Clinical Procedures
Medical Billing and Electronic Medical Records
Medical Transcription
Microsoft Word / Keyboarding
Excel Level 1
Job Search
Standard First Aid for Industry (Work Safe Level 1, First Aid and CPR Level C)
Practicum (100 hours)
FULL TIME PROGRAM
The full time program is designed for students to want to study at an accelerated pace so they can graduate faster and start working as an MOA sooner. The full time program runs for 16 weeks (13 weeks of in-class instruction and 3 weeks of practicum), with classes scheduled Monday through Friday from 9:00 am to 3:30 pm.
---
APPLICATION REQUIREMENTS
Registration is only open for students who have completed the application requirements and have been accepted into the program.
Note: you are welcome to apply and register before attending the information session (orientation).
Students should meet the following prerequisites before registering:
Complete the program application form: Application Form – Medical Office Assistant
English 12 or equivalent — English language assessment is required for those who do not have documentation of English 12 or equivalent; English language assessment is available at all information sessions
Typing speed of 25 net wpm — typing assessment is available at all information sessions
---
GRADUATION REQUIREMENTS
To graduate, students must meet all the following requirements:
Minimum 70% in assignments and exams
Minimum typing speed 50 net wpm
Successful completion of practicum (100 hours)
---
FUTURE EMPLOYMENT
Medical Office Assistants are in demand in the offices of a wide variety of health professionals, including general practitioners, physiotherapists, massage therapists, surgeons and medical specialists. Positions are also available in various medical clinics and health care institutions, including hopsitals.
Our graduates are currently working at Children's Hospital, Vancouver General Hospital, Burnaby Hospital, Life Labs, the Medical Imaging unit at Royal Columbian Hospital, St. Paul's Hospital, Eagle Ridge Hospital, Care Point medical clinics, CML Diagnostics, x-ray clinics, doctors' offices and private MRI clinics.
---
STUDENT FEEDBACK
Thanks to the MOA Program and great instructors at Burnaby Continuing Education, who have helped me in pursuing my career in a health care field. For the past year, I have been working at one of the fastest growing health care companies in Canada. The practicum experience that I had at one of its 18 clinics in BC was a value added for me in landing this job.
The instructors are very approachable and friendly. They are well-prepared at all times.
I really enjoyed the program and would definitely recommend it to my friends.
The information for the course was presented professionally; it was understandable and the instructor supported many different learning styles … I would highly recommend this program.