PROGRAM DESCRIPTION
Therapeutic Recreation Aide Diploma (Gerontology)
You are welcome to attend a FREE INFORMATION SESSION to speak to an advisor in person.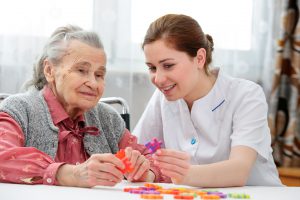 Many elderly people live in Care Homes and Assisted Living sites resulting in the need for trained professionals to work as Therapeutic Recreation Aides or Leisure Activity Aides.
This program trains you to provide wellness programs within all domains: physical, mental, social and spiritual. You will learn to provide comprehensive and creative programs that increase the quality of life for individuals living within a care setting. These activities include cognitive programs, music, gardening, fitness, games, social events, outings, entertainment and so much more. Make a difference in someone's life! If you are a compassionate, resourceful and supportive person who wants a job that really impacts others, this program is for you.
How is this program different from longer Therapeutic Recreation Aide programs?
This program has a specialized focus: it specifically prepares you to work with the elderly (gerontology based). Because older adults are the fastest growing age group in Canada, there are many jobs that require knowledge and skills specific to the elderly — our program reflects this.
REGISTRATION
PREREQUISITES
– Students should meet the following prerequisites before registering:
English language proficiency; English language assessment is available at all information sessions
Grade 12 education level
---
THERAPEUTIC RECREATION AIDE DIPLOMA (GERONTOLOGY)
Register
Cost
Course schedule
Course location
Course ID 1300-1
REGISTER
NOW
$4650
18-SEP-2017 to 13-FEB-2018
Mon | Tue | Wed | Thu | Fri
9:00 am to 3:30 pm
100 sessions
Schou Education Centre
4041 Canada Way


Map
The course fee includes books and First Aid Certification. Extra costs include $28 for a Criminal Record Check and $35 for Serving It Right Certification.
Course costs are subject to change each term; future course offerings may charge different amounts.