THERAPEUTIC RECREATION AIDE DIPLOMA (GERONTOLOGY)
The next TRA program will start January 2024.

---
PROGRAM DESCRIPTION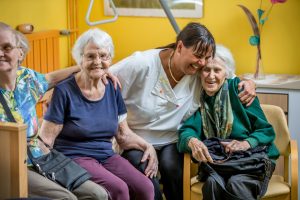 Many elderly people live in Seniors Housing, resulting in the need for trained professionals to work as Therapeutic Recreation Aides or Leisure Activity Aides.
The TRA program trains you to provide wellness programs within all domains: physical, cognitive, social, emotional and spiritual. You will learn to design and implement creative programs that ensure a life well lived for seniors. These activities include music, gardening, fitness, games, social events, outings, entertainment, crafts and so much more. Make a difference in someone's life! If you are a compassionate, resourceful and supportive person who wants a job that positively impacts others, this program is for you.
The course fee includes handouts/books ($175 value) and First Aid Certification. Extra costs include $28 for a Criminal Record Check.
How is this program different from longer Therapeutic Recreation Aide programs?
This program focuses on one population group only. It specifically prepares you to work with the elderly (gerontology based). Because older adults are the fastest growing age group in Canada, there are many jobs that require knowledge and skills specific to the elderly — our program reflects this.
---
PREREQUISITES
Students should meet all the following prerequisites before registering:
Minimum English language proficiency equivalent to Grade 12 English in BC (English language testing available at information session)
Minimum Education Level equal to Grade 12 in BC
Proof of double vaccination for COVID-19 is required due to practicum requirements
---
GRADUATION REQUIREMENTS
To graduate, students must meet all the following requirements:
Minimum of 70% in each segment of the program
Completion of all assignments, presentations and tests
Successful completion of the practicum
---
FUTURE EMPLOYMENT
Graduates of the program will be able to find employment in long term care facilities, assisted living facilities, adult care centres, retirement homes and group homes.
---
PROGRAM CURRICULUM
Interpersonal Communication
Person Centred Care
Introduction to Practice
Introduction to Aging
Dementia Theory
Practical Approach to Dementia
Lifestyle and Leisure Education
Basic Program Facilitation / How to Lead an Activity
The program also includes:
CareFit Education
Foodsafe Level 1
First Aid & CPR-C certification
Cracking the Dementia Code™ certification
Books
The program includes 2 practicums. Practicum 1 takes place once per week and gives you an introduction to the TRA field and environment. The second practicum is 5 weeks of full time practicum. This gives you the opportunity to consolidate knowledge, skills and abilities so that you are confident and ready for work when you graduate.
---
STUDENT FEEDBACK
This TRA diploma course was great and I received very positive comments from potential employers during recent interviews. They all appreciate that the course is conducted face-to-face, full time, for nearly 5 months. They also believe that the practicum hours provide valuable field experience for the students.
Peter (June 2017)
Meet Hilary – Therapeutic Recreation Aide Grad 2018
Why did you take the Therapeutic Recreation Aide (TRA) program?
After being a hairstylist for 20 years I was looking for a new career. As a hairstylist I had the pleasure of serving many seniors, some I saw every week. I loved the personal connection with them. I knew I wanted to work with the older adult population and I knew Therapeutic Recreation was the direction go. I learned that the course was offered through Burnaby Continuing Education and after researching all the available options in the lower mainland, I decided this program was going to be the best for me.
What doors opened for you after graduating from the TRA program?
While on my practicum placement, I was offered a position as a casual Recreation Assistant at an
Independent Retirement Residence in Burnaby called Sienna Senior Living's Rideau Retirement Residence.
While working in that position, I also was hired by another organization in a permanent part time position in Long Term Care. My next desire was that I would one day be promoted into a managerial position. By working hard and taking some extra training, that dream also came true. I was recently promoted to Lifestyle Consultant, Recreation Manger for Rideau Retirement Residence. The organization was impressed with the knowledge I had obtained in my education and supported my goals of moving up within the organization. I think this was the best program for someone like me who was looking for an option that didn't involve a 4 year degree and the financial and time commitment that comes with it. I was able to be trained and find employment in 6 months. I secured a permanent full time position with benefits and the job security to work until the end of my working career in a vocation that I find so much value in; both personally and professionally.
What did you like the most about the TRA program?
The instructors went above and beyond in helping us learn more about the day to day life of a Recreation Assistant, what to expect from employers dduring interviews, and how to tap into everything we had learned to provide the best possible quality of life for our Residents.