RESTORING SOIL HEALTH on FARMS, GARDENS AND CITIES
---
COURSE DESCRIPTION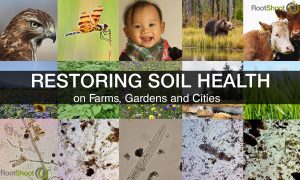 Burnaby School and Continuing Education invite you to attend this special course on restoring and nurturing your soil's health for optimal plant growth.
We will explore:
The soil microbiome and its role in plant growth.
Methodologies and workflows to help rebuild your soil biology.
Biological inoculants, such as thermophilic compost, extracts and teas, including management and applications for soil restoration.
Proper applications and assessment of biological inoculants for restoration.
Practical and effective soil health assessment of your farm or garden.
Project case studies including conversations with farmers who began the journey of soil life rehabilitation.
WHO THIS COURSE IS FOR
Commercial farmers (small-medium scale production)
Greenhouse operators
Park board commissioners (members of a municipality in charge of managing city parks)
Arborists, landscape architects and technicians
Cannabis growers
Home gardeners
Individuals with a general interest in soil health, regenerative agriculture, agroecology and permaculture
FURTHER INFORMATION
Participants are welcome to bring their microscope to the course. We will have 3 microscopes at the school if you do not have your own.
We can provide slides, coverslips and pipettes for the microscope section of the course.
Bring your lunch and snacks for the Saturday sessions.
---
INSTRUCTOR BIO
Jo Tobias is a Regenerative Soils & Living Compost Specialist with the primary goal of helping farmers regenerate the life in their soil.
She founded RootShoot Soils in 2015 and has since been educating and working with producers in British Columbia, Alberta, Saskatchewan and Ontario. She combines curious exploration with ecology to successfully guide her clients in restoring the symbiotic relationships between their crops and the soil microbiome.
To find out more about Jo and her company, RootShoot Soils, visit her at www.rootshootsoils.com
---